CPAT Report No. 1126 The Neolithic Chambered Tombs of Breconshire

Pipton

Grid reference: SO 1604 3727
Access: Private land, no public access: permission may be sought from Pipton
Excavation: Savory 1949
PRN: 511
The tomb at Pipton was excavated by Savory in 1949 for the Brecknock Society and the National Museum of Wales. The excavations revealed that the original cairn was wedge-shaped, 32m long, 16m wide near the north-east end, where the forecourt had a false portal 2.5m wide, and was around 10m wide at the south-west end. The cairn was up to 2m high, the tallest element being one of the two portal stones at 2.4m. Within the cairn only two chambers were identified: Chamber I was only 5.5m from the portal and was entered from the north-west side; and Chamber II was apparently a closed cist on the same side. An internal revetment wall curved across the cairn to the south-west of each of the chambers. The appearance of the cairn today is rather less impressive than the excavation results might suggest. Its main visible structure comprises two large slabs forming the portal at the north-east end and there are only two other stones now showing, both of which have previously been described as possible buttresses. One of them is midway along the south-east side, the other near the south-west end. There is a hollow in the mound between the portal and the position of Chamber I, and another hollow on the north-west side which marks the position of Chamber II (RCAHMW 1997, 48-51).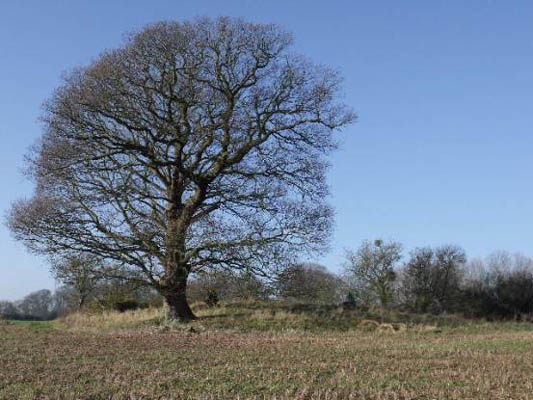 The chambered tomb at Pipton, viewed from the east with the stones of the false portal just visible on top of the mound, on the right. Photo CPAT 3393-0006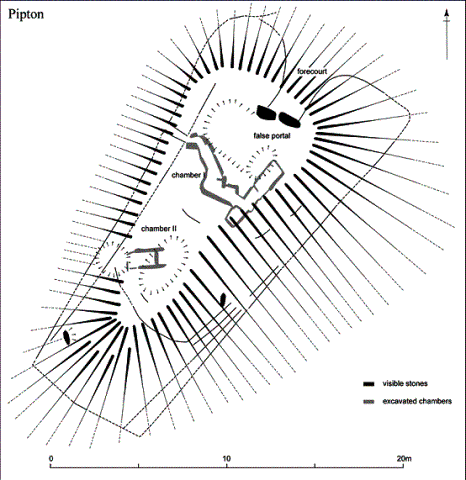 Pipton chambered tomb (after RCAHMW 1997 and Savoury 1949)