CPAT Report No. 1126 The Neolithic Chambered Tombs of Breconshire

Court Farm

Grid reference: SO 2122 4315
Access: Private land with no public access: permission may be sought from Clyro Court Farm
Excavations: None
PRN: 2170
Although sited just across the River Wye in Radnorshire, the remains of the chambered tomb at Court Farm, near Clyro, should be regarded as part of the group of tombs that are otherwise in south-east Breconshire. The site was first recognised by W. E. Griffiths in 1973 and consists of an elongated mound around 32m long, up to 16.5m wide and a maximum of 1.1m in height (RCAHMW 1997, 63-4). A number of edge-set slabs are visible defining the remains of one, or perhaps two chambers, although with no indication of an access passage.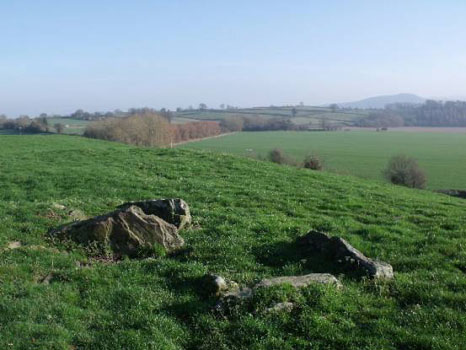 A view of the upright slabs marking position of one, or perhaps two central burial chambers at Court Farm, Clyro. Photo CPAT 3393-0025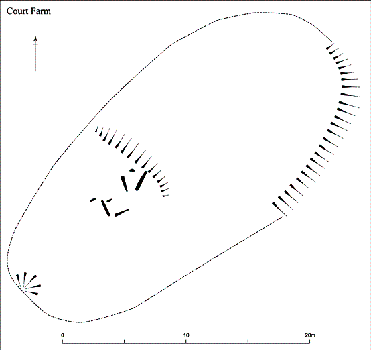 The Diagram shows Court Farm chambered tomb near Clyro (after RCAHMW 1997)