CPAT Report No. 1126 The Neolithic Chambered Tombs of Breconshire

Ffostyll North

Grid reference: SO 1789 3490
Access: Private land, no public access: permission may be sought from Ffostyll farm
Excavations: Vulliamy 1921-3
PRNs: 552 and 553
The northern tomb is the larger of the two and had also been disturbed before Vulliamy's excavations of 1922, the exposed eastern chamber having been robbed. A western chamber was discovered, as well as a covered cist located in the middle of the north side of the mound. The chamber contained human remains, together with those of domestic animals, some flint flakes and pottery. The cist contained the remains of six or seven individuals, including two children.
The cairn has clearly seen significant past disturbance and now measures 41.5m in length and is up to 22.0m wide, tapering towards the west. The exposed slabs of the eastern chamber form a striking feature with five upright stones well-set within the mound. The site of the western chamber is marked by two side-slabs, with a further slab to the east which is set at right angles and presumably marks the end of the chamber (RCAHMW 1997, 43-6; Vulliamy 1923).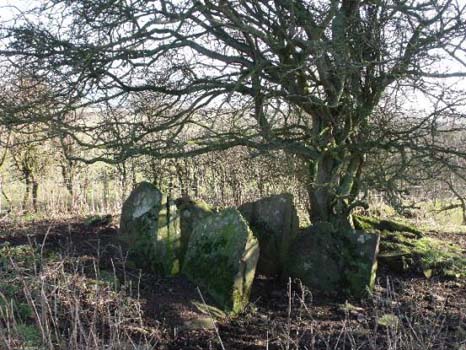 The east chamber at Ffostyll North, viewed from the north-west. Photo CPAT 3393-0050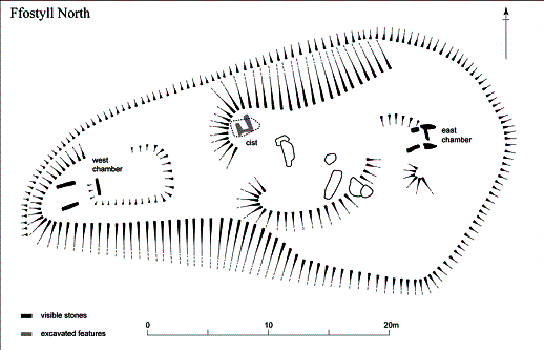 Ffostyll North chambered tomb (after RCAHMW 1997 and Vulliamy 1923)