CPAT Report No. 1126 The Neolithic Chambered Tombs of Breconshire

Little Lodge

Grid reference: SO 1822 3806
Access: Private land with no public access: permission may be sought from Little Lodge farm
Excavations: Vulliamy 1929
PRN: 512
The Little Lodge tomb, near Three Cocks, was first described and is still best known from excavations by Vulliamy in 1929, which revealed a major chamber complex just south of the mound's centre, with a contiguous pair of small chambers in the south end. The main chamber contained many unburnt human bones, representing one youth and four adults, mostly male. The site is extensively robbed, and the mound survives to a maximum height of only 1.8m, with a number of large, upright slabs exposed, giving some impression of the chambers. The surrounding mound forms a broad platform 55.5m long north to south, with a maximum width of 22m, although this has clearly been truncated by ploughing (RCAHMW 1997, 51-3; Vulliamy 1929).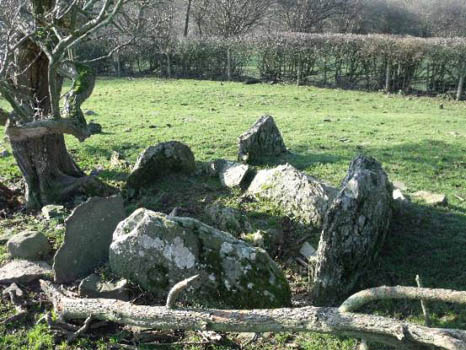 The main chamber at Little Lodge, viewed from the north-east. Photo CPAT 3393-0014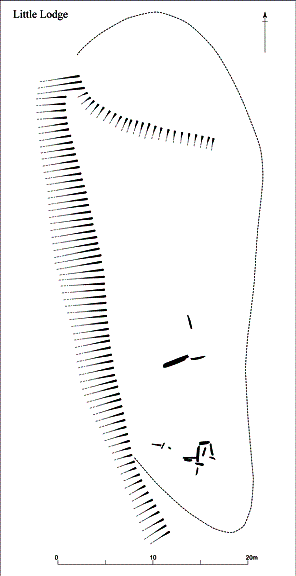 The Diagram shows Little Lodge chambered tomb near Clyro (after RCAHMW 1997)