CPAT Report No. 1126 The Neolithic Chambered Tombs of Breconshire

Ffostyll South

Grid reference: SO 1789 3490
Access: Private land, no public access: permission may be sought from Ffostyll farm
Excavations: Vulliamy 1921-3
PRNs: 552 and 553
Ffostyll, lying 2.5km north-east of Talgarth, is unusual in having two chambered tombs in close proximity, both of which were investigated by Vulliamy between 1921 and 1923 (Vulliamy 1921; 1922; 1923). The southern tomb had been disturbed in 1875 when quantities of human bones were uncovered during quarrying for road stone.
Vulliamy's excavations uncovered the main chamber, which measured 3.3m by 1.2m, the floor of which was covered by a large quantity of human bones and teeth, representing nine or more individuals of both sexes and various ages, as well as some remains of domestic animals. Further burials were revealed outside the chamber, as well as some pottery and pieces of flint and chert. The available evidence suggests that this may have been a form of terminally transepted tomb. The remains of the cairn now consist of a long mound around 36m long and up to 23m wide, which tapers slightly from the north, standing up to 2m high at the northern end, but no more than 0.5m towards the south. Seven upright sandstone slabs are visible towards the northern end, defining the remains of the chamber (RCAHMW 1997, 41-3).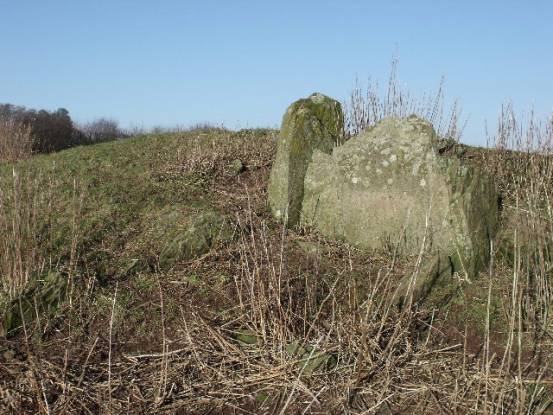 Part of the main chamber at Ffostyll South, viewed from the south.
Photo CPAT 3393-0041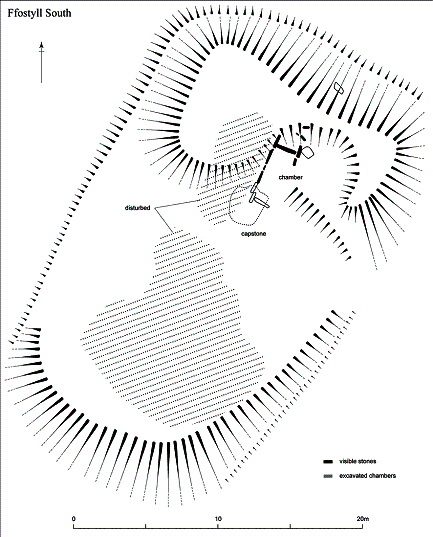 Ffostyll South chambered tomb (after RCAHMW 1997 and Vulliamy 1921)