Sunshine Corner - An article written by Chris Forbes ( nee Lloyd )
Who, amongst those of us who grew up in Glasbury during the fifties, could forget Sunshine Corner!
It was an evangelical mission aimed primarily at children, with meetings held all over Britain, and the leading lights of Glasbury Sunshine Corner were Derek Wells from Hay and Mrs Greenow Senior, the grandmother of Paul, Glyn, Dawn, Susan and Andrew. We met once a week during the summer (I don't remember any winter gatherings but could be wrong) on the village green to sing songs and listen to bible stories which were illustrated by vividly coloured felt shapes on a green baize background, displayed on a stand. We always started with the song which I am sure is etched in the memory of every child who attended, even after 50+ years:
Sunshine Corner oh it's jolly fine
It's for children under 99
All are welcome, seats are given free
Glasbury Sunshine Corner is the place for me!
We were asked questions relating to the bible stories and were rewarded with sweets for a correct answer. One year (I think it was 1958) there was to be a prize for the most attentive listener – and the copy of "The Child's Pilgrim's Progress" is still on my book shelf!
I know that we all enjoyed Sunshine Corner – but, in my case, I think that the sweets were the big attraction!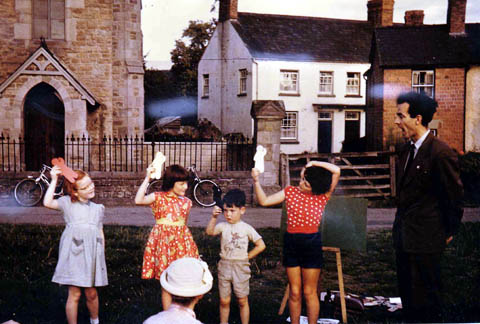 A Sunshine Group singing on the Village Green, led by Derek Wells
Linda Wells, Susan Greenow, Andrew ? , Dawn Edwards (nee Greenow)
In the foreground is Emily Greenow
photo courtesy of Paul Greenow
Acknowledgements Paul Greenow and Sue Wells (nee Greenow)