In the 1950's a group of local and mainly Glasbury people decided to form a Drama Group. They were fortunate in that some of their members knew the author T. C. Thomas ( who wrote the TV series "Davy Jones Locker" for BBC Wales in 1955 ) They called their group "The St Cynidr Players".
T C Thomas encouraged and inspired them and they soon joined the Wales Section of the British Drama League. This enabled them to spread their wings and ambitions so that they could play and compete in the surrounding Towns and Eisteddfods in several Welsh Counties.
In this respect Mr Thomas wrote and aided them with several one act plays which they then took on the road with much success, to the point of winning several Welsh competitions and securing a very creditable second place finish in the All British Finals at the Lyric Theatre in Glasgow in 1959.
Road to Scotland
In order to qualify for the All British Finals the St Cynidr Players had first to win the all Wales Championships.This they duly did and then travelled by train from Glasbury Station to Glasgow with all their costumes and props for their play, along with conventional clothign and personal items for the journey. There would also have been the logistics of train changes, accommodation for the cast and storage of the props and costumes for the play itself. This would have been no mean feat in 1959 and no doubt they had a lot of fun and high jinks on the way.
Their fellow competitors in the British Isles Final Festival were the respective national winners listed blow : -
English finalists - The YMCA Players from Hereford
Scottish finalists - The Nairn Drama Club
Irish finalists - The Belfast Drama Circle
Breconshire County Finals in April 22/23rd 1960
The six finalists performed on the Friday and the Saturday and were selected from the 14 entries performing at Builth Wells, Crickhowell and Sennybridge prior to the event.. It is testominy to the strength of the St Cynidr Players that they had three teams in the final of the six chosen.
The two productions below were performed on Friday the 22nd and the one on the right hand column on Saturday the 23rd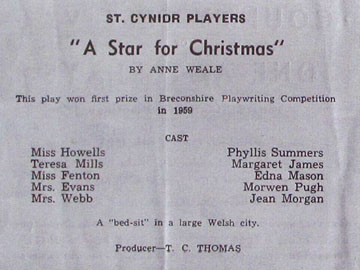 Courtesy of Kathleen Price nee Ralphs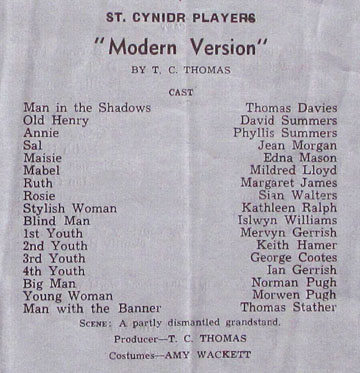 Courtesy of Kathleen Price nee Ralphs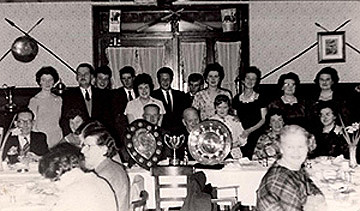 The Players and Guests at the 1961 celebration dinner at
the Measllwch Arms ( now Foyles ) in Glasbury-on-Wye
Courtesy of Sheila Morgan
They were again successful in the Welsh Competition in Llanbedr Pont Steffan ( Lampeter ) in 1961 and competed in the 1962 Eisteddfod in Llanelli for the Welsh area final of the British Drama League.