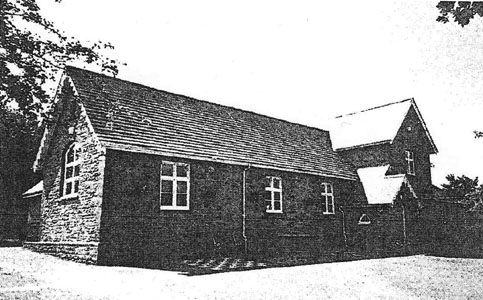 Ffynnon Gynydd Schooldays ( The School in shown on the right )
On Ffynnon Gynydd common, above Glasbury in Radnorshire, there is a small primary school. Built in 1876, it has two main classrooms and an adjoining house originally used by the schoolmaster. It is close to the ancient St Gynidir well and serves the families of nearby houses and farms.
There is no one left to describe the school in its Victorian period but one or two erstwhile pupils remember their schooldays between the two world wars. George Powell helped his mother, the caretaker, to carry buckets of eater from the well across the common as there was no running water. Sometimes it was impossible to cross from the road to the school without being "over shoe tops in water and mud. Once inside it was bitterly cold in winter and on occasions the ink was still frozen in the inkwells at the end of afternoon school, this despite fires which were kept going all day. Central heating was eventually put in during the 1930's. There being no water main, a header tank was installed in the corner of the large room as high as possible and was filled by hand off a ladder. The water was heated by a coke fired stove and if the caretaker lit the stove early or it had been kept going gently all night, the water would soon boil and the steam would blow water through the safety pipe into the header tank with a great gurgle.
According to the log book the school had to be closed for an average of almost three weeks a year through epidemics of measles, whooping coughs, influenza or impetigo. Since in those carefree days children also had days off for the Hay fair, Harvest Festival and permission to beat at pheasant-shoots or to feather poultry, continuity of education must have been a problem.
In 1920 Mr Dixon became headmaster and there were two assistant teachers for the seventy children. Within a month of his appointment Mr Dixon had become disillusioned and wrote in the log book : -
"The longer I stay the more I regret I ever came. The dilapidated premises, furniture, books, wall decoration, muddle of the cupboards and scarcity of stationery are very trying, adding to this the disgraceful paperwork and low attainment of the children and we have a state of things which would induce me to resign at once but for the fact that it has cost me £35 to remove here. "
However, he stayed and made representations to the school board about the state of the buildings and furniture. The condition of the desks was a continuing anxiety because they were falling to bits and had no backs. In 1921 the inspector reported : -
" This school is one of the worst in the County in the matter of books. "
In 1924 new desks were arriving at last causing : - "great excitement amongst the scholars"
The rigours of the three R's were varied by occasional outings like a day visit to Aberystwyth, a trip greatly enjoyed by the children, none of whom had seen the sea before. Less thrilling, but perhaps they relieved monotony, were lectures from outsiders like Miss E Rowlands who paid her promised visit this morning and gave a very interesting and instructive address on Tuberculosis. It is a visit which is always looked forward to by the children, who listen with marked attention and evident appreciation and great benefit.
Out of school events included an annual \Christmas party at Maesllwch Castle given by the de Winton family. George Powell says that there was always a lavish tea; sometimes a conjuror and very child received a present.
Mr Dixon retired in 927. He seems to have been a hard working, somewhat gloomy man of whom the children were a little afraid. His last entry in the logbook reads : -
" Today brings my scholastic career of nearly fifty years to an end. It has been an exceedingly trying one, and though, during the whole time I have endeavoured by precept and example to influence my scholars to lead a noble and useful life I feel that my efforts have, as a rule, been in vain. "
In November 1927 the logbook entry, written in a bold, clear hand, reads : -
"Archibald Alfred Bates and my wife Hilda. C. St Clair Bates commenced duties as headmaster and supplementary teacher. "
From the lively entries which follow one imagines that this couple brought life and colour to Ffynnon Gynydd school. Within six months Mr Bates had badgered the governors and the school board into making repairs and providing better fires I n the winter. There are many incidents and events recorded in the logbook that give a flavour of the broader education that the Bates offered. On Empire Day 1929 they had a simple pageant; children representing each of the colonies bore appropriate gifts and presented them to Mother England. On a trip to Barry Island seventeen of the older children went over a steamship which : -
" was being coaled and loaded for a trip to South America. The workings of a coal tip was explained to the children and demonstrated by taking them up to a good height. "
Academic excellence was encouraged but able children did not often go to grammar school because the cost of uniforms, travel and sundries was too great. George Powell went to Builth grammar school, walking every day down to Boughrood to catch the 7.40am train. His parents could not afford school lunches and he went to a little café in Builth for : - " a cup of tea and a bit of cake for sixpence "
Mrs Bates taught needlework and cookery and, conscious of the fact that most of the girls were likely to "go into service", one of her lessons was to lay the table properly using the correct cutlery. It was the cookery classes that were the treasured memories of Rhoda Hughes who was at the school from 1920 – 31. She had enormous respect for this teacher who she remembered clearly and in 1999 she wrote this short essay about her.
" Through the ages there have been outstanding Christian people – St Peter, William Wilberforce, Florence Nightingale, Elizabeth Fry, the Polish priest, who in World War 11 in a ghetto exchanged his life with a younger family man. To these there are the stained glass windows, plaques, headstones etc, but the one that stands out in my memory is a school mistress and her husband who came to a small Welsh village in the depression when poverty was rife.
There were children who were hungry and cold and often had wet feet when they arrived at school. They would eat their dinner sandwiches on the way to school. They couldn't concentrate. This teacher noticed this and prepared a meal for them - hot in the winter. The older girls helped.
A farmer's son would take down a quart of skimmed milk every day. A local farmer sent brown homegrown flour. The gardener from a local nursery sent surplus vegetables. During the summer people would send a few eggs. In winter most people kept a pig, a real treat was "pig-meat". A cook from a gentlemen's house sent dripping.
It taught the girls to be resourceful and consider less fortunate people. Sadly this was not taught in some homes. She taught us to cook in her small kitchen. I still have the recipes of what we made with her. This was a help in later life. She said her reward was the look on our faces when we took our first creation home.
My schoolmistress had courage, loyalty, humour, a clear mind. She still remains the ideal woman to most of her pupils. Her funeral service made us feel humble. The Vicar said it was a life well spent and also a time of rejoicing for this very good life. "
The school logbook records : -
1940 August 15th Mrs Bates, certified assistant teacher, passed away during the summer holidays in the Schoolhouse …
That she was greatly loved by the children n, scholars who have left, neighbours and friends was shown at the funeral at All Saints Glasbury, which was filled by them and by the large number of floral tributes which they brought.
Rhoda's adult life as perhaps typical of many girls who were educated at the school. She went first into service in a large house in Llanigon. Three or four years later, no doubt owing to her training by Mrs Bates, She obtained a job through the Registry Office in Hereford as " Cook general " for £40 per annum with board and lodging at Penymaes near Glasbury. She thought her employers " strict but very fair "
In 1940 she married John Hughes, tenant of a farm at Bredwardine, Herefordshire, which he later bought. Rhoda became the archetypal farmer's wife and had nine children who she raised with conspicuous success. Busy as her life was she found time to attend to her creative talents. She designed and worked several large tapestries, two of which adorn the walls of Bredwardine church.
The Vicar remembers that Rhoda used to phone him and ask him questions like " Vicar Barnes, what is the New Jerusalem like ? ". Perhaps she knows now !
Opportunities today are very different for most children. Today's pupils certainly enjoy a stable and lively education in a family atmosphere.
Acknowledgements
Helen Davies ( former Headmistress )
Gary Starky ( nee Hughes )
George Powell
Steve and Geoff Bates
Footnote : - The article was first published in Country Quest in 2003