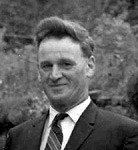 A true account of how 19 year old Jim Hughes of Brynyrhydd farm lost his leg in a farm accident in 1933. Taken from the diary of George, Jim's younger brother and from recollections of Jim Hughes children.
Jim Hughes is pictured on the left

From George Hughes diary :-
"Coming home from school one Friday night I met Mr Thomas and he told me Joe had had an accident and was in bed with a broken leg. I hurried home and found Joe with a very badly cut forehead as well as a badly broken leg. It appeared that Jack (Joe's half brother) and he were cutting chaffe with a chaffe cutter driven by a stationary oil engine and somehow he got caught in the flywheel of the engine.
I don't think mother and father were satisfied with the way the leg had been set by Dr Jayne. He paid Dr Woodpower to come from Hereford and he did a good job. This was about 1930 when times were bad for farming and money was scarce, so it was talked over and it was agreed that I would not return to school after Christmas. I was happy to stay at home and work on the farm. Although Joe's broken bones were healed, something was wrong and his leg below the knee went black and seemed dead. He was in bed all winter and mother refused to let him go to hospital. We managed to look after the animals between us, but in the spring the doctors told my parents he would have to have his leg off. Mother still insisted that he should not go to hospital and they agreed to operate on him in the kitchen. Dr Woodpower did the operation assisted by Dr Jayne and his son Dr Robert Jayne.
The kitchen table was scrubbed and scrubbed in preparation for the operation and everyone was told to leave the house. After the operation was over Dr Jayne was seen walking down the yard with the leg under his arm.It was an awful shock to Joe but after a while he recovered and rose out of bed and somehow managed to get about. He made himself a pair of crutches and it was surprising what little jobs he would do. He was eventually fitted with an artificial leg and was able to work as usual on the farm."
Comments from Joe's family : -
Dr Woodpower charged Joe's parents £20 to set the leg and £20 for the amputation; Dr Jayne's costs were £1 a visit.
To help Joe's recovery during his convalescence his mother fed him raw chopped liver.
He eventually made a full recovery, became a very successful farmer, married and had a large family of nine children.
One time he was asked to visit a young man in Hereford hospital to give moral support. The young man had lost his leg in a motor bike accident and was very depressed.
Joe never spoke to his family about his accident; he just got on with his life.

Article researched by Paul Greenow - with thanks to the Hughes family