NONCONFORMIST CHAPELS AND MEETINGHOUSES
In a period when so many Nonconformist chapels throughout Wales are being made redundant and demolished or converted to secular use, no fewer than three in the parish of Glasbury appear in Anthony Jones' monograph Welsh Chapels (1984), listed as buildings which should be "saved at all costs": Maesyronen, Capel-y-ffin and Treble Hill, each representative of a different period and style of chapel building. In J.W. Hobbs' reminiscences, he describes the Chapel Sunday school Anniversaries as great events, when children and adults would give songs and recitations: "One year a grand 'Dialogue' was given by the men of the Chapel. It was called 'Noah's Ark' and the part of the patriarch was taken by the white haired old stationmaster, Mr. Jones. There were about a dozen men and boys taking part, but the only two names I remember were a Mr. Holder and the jovial old Precentor, Mr. James Morgan, who added a touch of humour by rushing in, getting stage fright and instead of the grandiloquent speech he should have delivered, looking blankly around and then blurting out, 'the river has ruz, and I'm feared as most of my ships have been washed away'. I was a sinner who repented and arrived after Noah had entered the Ark (the Chapel vestry), and heard the solemn words from inside 'Too late, too late, the door is shut, you cannot enter now!'".
GLASBURY UNITED REFORM MEMORIAL CHAPEL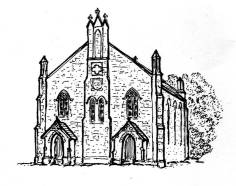 During a visit of the Rev. Newman Hall to Maesyronen, a service was held in a large tent pitched on Glasbury village green, and the building of a chapel in the village was mooted, for the old chapel was "too much after its own day to suit modern worshippers" besides being "somewhat inconveniently situated". At a conference held at Maesyronen on 25th March 1863 to consider the necessity of erecting a new chapel, it was resolved unanimously that immediate steps should be taken and a committee formed for this purpose. A building fund was started and a grant of £150 obtained from Samuel Morley, who was offering sums of money towards the erection of a certain number of Congregational chapels during a given period, such chapels to be known as Memorials of the Bicentenary Celebration of the Ejection of 1662. Plans were draughted by the famous chapel designer, the Rev. Thomas Thomas of Glandwr; a site was secured and, after some delay, work began. The builder of the modified Gothic edifice was Edward Powell of Hay. Much of the stone was quarried locally at Cwmbach, while the dressing stone came from Dolerw quarry, and the cresting tiles on the slate roof were from Broseley.

The new chapel opened on 26th October 1866 and proved so popular that pews were even let on the gallery. However, less than half the building cost had been raised; and twenty years later there remained substantial liabilities. It was explained in a Jubilee Year appeal that "for some time after the first few years of its existence the Church had a very chequered history. The circumstances were so trying as utterly to forbid any further effort to reduce the debt". In recent years further problems beset the chapel. With dwindling congregations unable to maintain a structure designed to seat some 340 people, the chapel was forced to close as a place of worship, holding its final service on 20th March 2005; and like so many other chapels throughout Wales, it has been converted into living accommodation.
Source : -- "A Chapter on the Churches and Chapels in the Parish of Glasbury " by M.A.V. Gill