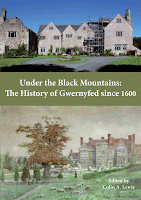 Under the Black Mountains: The History of Gwernyfed since 1600
Paperback, 128 pages, over 30 colour and 40 black and white photographs
ISBN 978-1-910839-15-7 Price £12.95 Logaston Press

This book contains four personal memories of Gwernyfed and its environs — those of Elyned Hore-Ruthven who was brought up at Gwernyfed Park in the late 1800s and early 1900s, returning to use Old Gwernyfed in later life as a home for part of the year; of Thomas Perks whose family farmed at Old Gwernyfed in the mid 1800s; of J.W. Hobbs who worked on the railways at Three Cocks Station in the early 1900s; and of Mary Kinsey who tells of those who lived in the area between the 1880s and 1960s. To these Colin Lewis has added a history of the Gwernyfed Estate that provides a background to these four accounts, together with other details that develop the overall story and bring it up to date with the creation of Gwernyfed High School, which the Welsh Government has placed in the highest educational category for schools in Wales.
Colin Lewis lectured in Geography in Ireland before moving to South Africa, where he was successively Professor and Head of Department at the Universities of Transkei and Zululand, and at Rhodes University. Professor Lewis is the author of many books, and has been awarded the prestigious National University of Ireland's Prize for Irish Historical Research.
Source: -- Logaston Press website