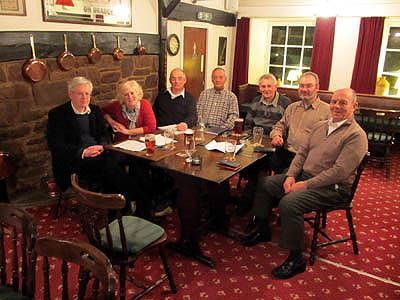 photo - B Bowker
Inaugural meeting - 10th March 2013 - l. to r. - David Edlin, Barbara Lloyd, Paul Greenow, Chris Aldridge, Bill Bowker, Darren Ricketts and Derek Price. Grahame Day ( on camera )
Additional members now include Chris Forbes, Fred Lloyd, Keith Berry, Frank and Geraldine Cleary.

B Bowker
16.05.2013

The long closure of the Maesllwch Arms for repair and refurbishment had resulted in an eclectic mix of personalities, from both sides of the river, meeting on a regular basis in the Harp Inn for liquid sustenance and social well being. Over tales told, ideas shared and with encouragement from the landlord, Grahame Day, it was felt that there was sufficient interest and material to consider a local history group
Photographs from numerous sources had already been scanned and these were copied into Grahame's computer and in April 2013 Darren Ricketts fronted a slide show in the Harp dining room. The evening was well received by a full house, prompting much interest and discussion but with no conclusion regarding a dedicated group.
A further meeting was scheduled for Sunday the 10th May 2013 with the object of forming a history group. This was successful and is at present a loose affiliation which will expand as required and call on local knowledge and individual research to gather and collate material pertinent to Glasbury and the local area.
Much work regarding archaeology, geography and geology etc is already well documented by the numerous Welsh journals both on and off line and also by the excellent C.P.A.T. resources. ( Clwyd-Powys Archaeological Trust )
The Group's purpose is to draw on all of the above and to produce an on-going source which is informative and easily accessible. It is further intended to hold interactive events on occasion as the archive develops.
If you wish to contribute with information, corrections or material please